Banromsai TERASSE English version
About TERASSE
Ever since the establishment of Banromsai in 1999, we have been greeting our supporters and donors with an yearly activity newsletter named "DEE". The definition of "dee" is "good" used as a compliment or greeting word in Thai, and our purpose of this report was to share the joy of watching the children grow at Banromsai with each and every patron.

Last summer in 2021, following the outbreak of covid-19, we decided to add a shopping catalog element to this newsletter with the intention of delivering a heartwarming time at home with banromsai selected products. The name of the new "DEE" is "TERASSE", which has a connotation of referring to a place where people can gather freely and can feel some sunlight and refresh easily in their daily lives- we wanted this catalog to have a positive meaning in that manner. Thanks to our supporters, as the first volume of TERASSE received numerous favorable comments, we were able to publish our second volume this November.

Since we would like to share our report and product line-up with our English-speaking supporters, this blog will guide you through the English-Translated version of some of the pages from the latest TERASSE. Please enjoy, and feel free to contact us with any questions.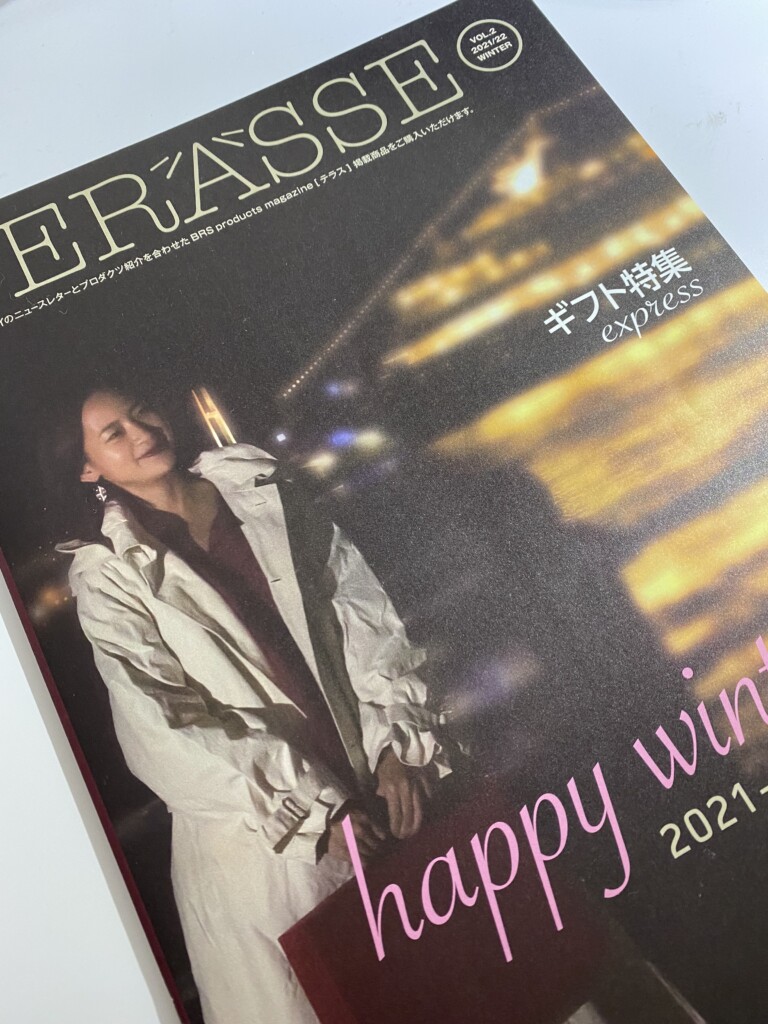 Preface
In 1999, we established our children's home for AIDS orphans in Chaing Mai, Thailand, followed by the launch of our original clothing brand banromsai and cottage resort Hoshihara village for further independence.

It has been nearly two years since our lives have drastically changed. Although the ongoing global pandemic has negatively impacted both of our businesses, we were fortunately able to keep our facility open and are happy to announce that the children and graduates are ready to welcome the new year with full energy. I would like to express my deepest appreciation to all the individuals and companies involved who purchased our products and supported our organization in various forms.

As the stay-home period made us realize the connection and bonds with others and the importance of expressing gratefulness to people who you are thankful for in words, the theme of this volume is "sharing gratitude". We have prepared our products a little early so that they are just in time for the year-end gift giving season.

As we have received a lot of favorable reviews regarding our first issue of our product catalog "TERASSE", based on the opinions of our customers and supporters, we have increased the number of product pages in this second issue. Profits will be partially used as donations for activities to support our children. I hope that this catalog will bring you the enjoyment of shopping and gift selecting along with the latest news of banromsai. It will be a great pleasure to share my happiness with everyone who supported us through the difficult times.

I appreciate your support and encouragement in 2021.

Thank you very much.

November 2021 banromsai Japan

Miho Natori
Chaing Mai Hoshihana Village Staff Introduction
– Ton-san the Carpenter-
Who is Ton-san?
He is in charge of the maintenance of all of the Banromsai facilities including the children's home, Hoshihana village and the sewing factory.
Profile
Name : Gamton

As he has been working at banromsai since the opening of the facility when he was in his 20s, the Japanese staffs call him by the nickname of "Ton-kun"- a combination of the abbreviation of his name and "kun", a Japanese way to call boys casually.

Age : 43 years old
Height : 167cm / 5.48 feet
Favorite food : seasonal dishes
Least favorite food : Tom Mamuang (seasoned mango)
Strength : strong sense of responsibility
Weak Point: short tempered
In Thailand, where three seasons (summer・rainy season・dry season) are experienced throughout the year, the maintenance of shelters and the land is crucial for a safe and comfortable life.
Ton-san works hard everyday so that the children and the visitors at Hoshihana village can spend a peaceful time.
He is an irreplaceable guardian of Banromsai.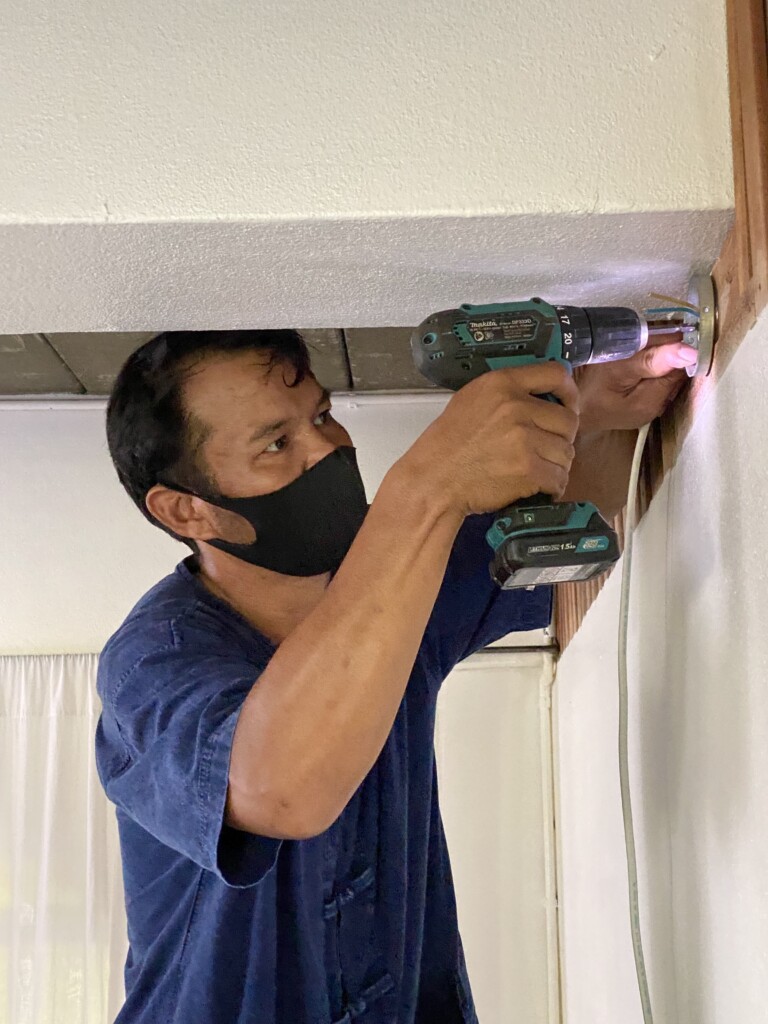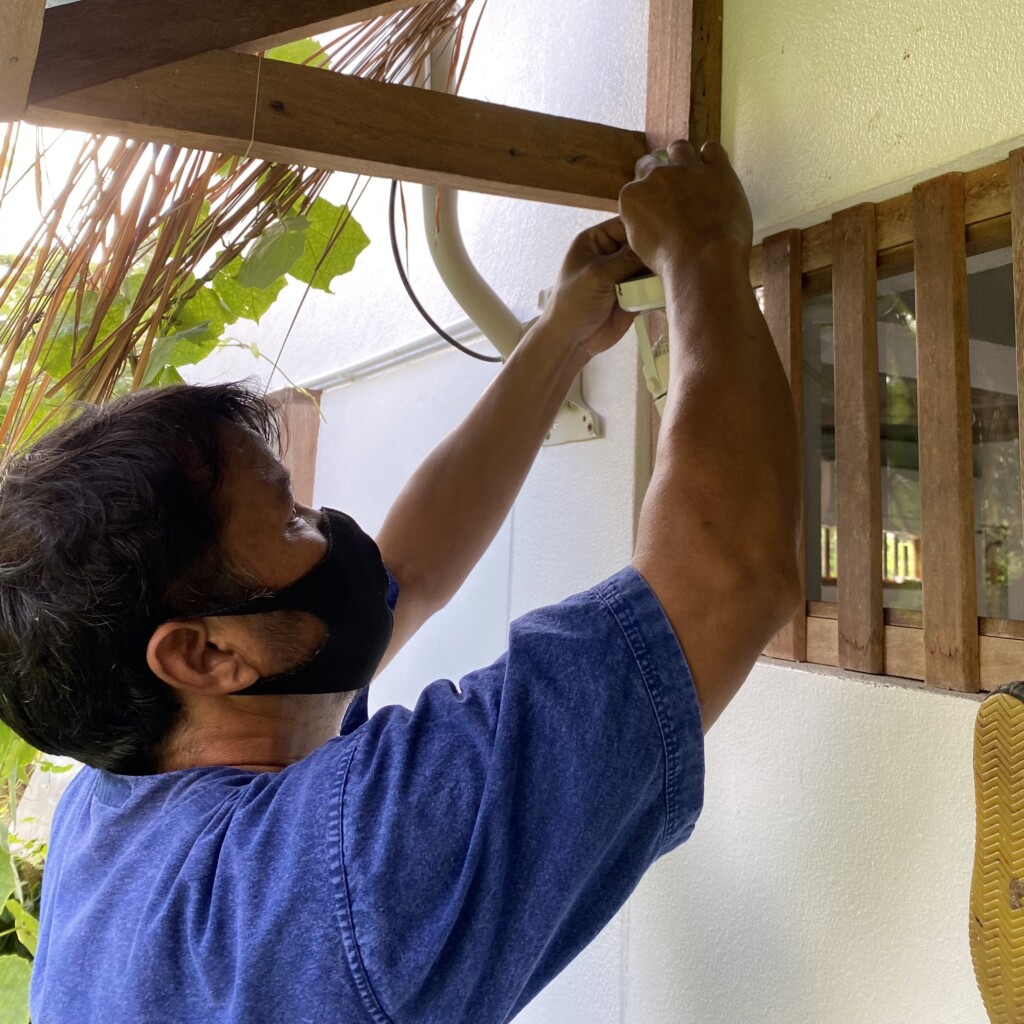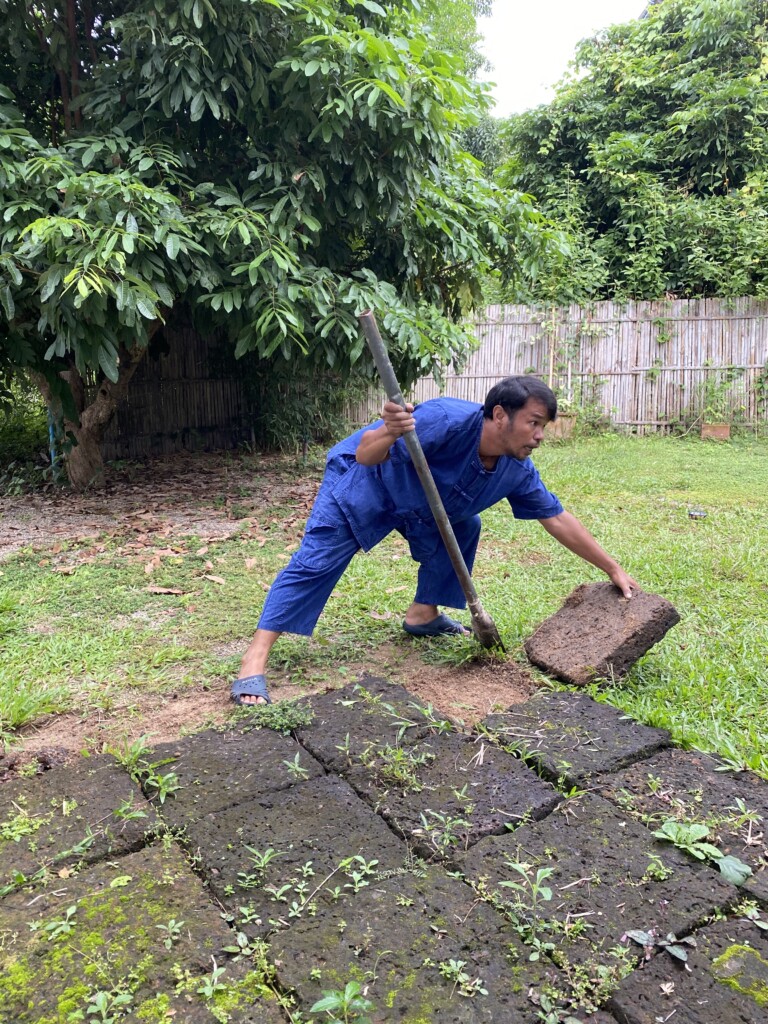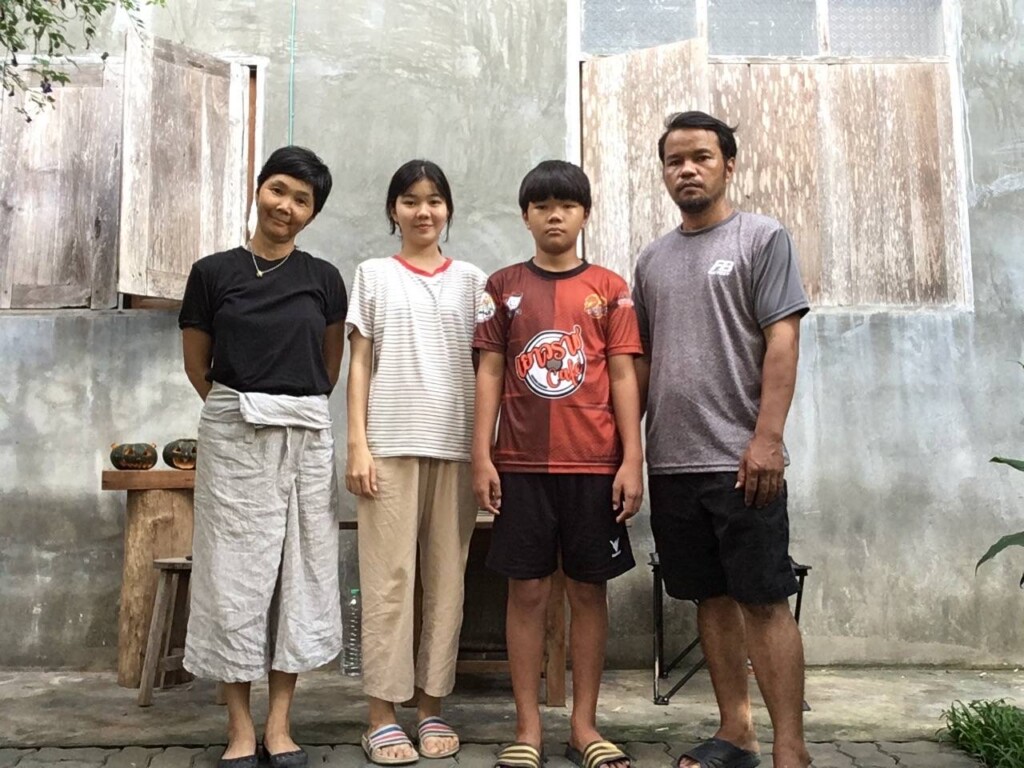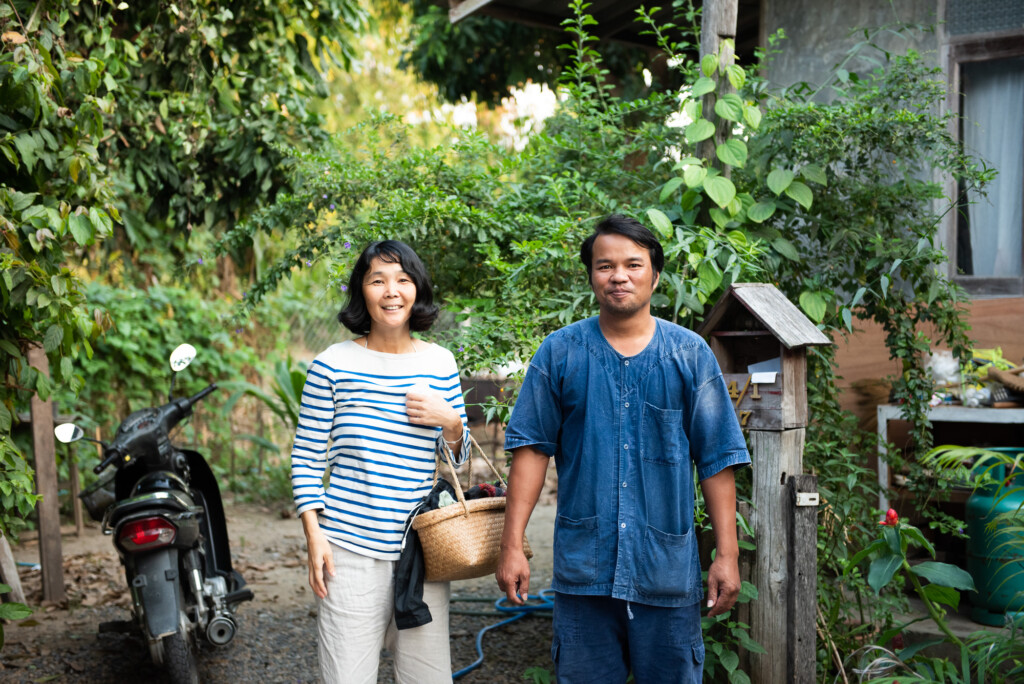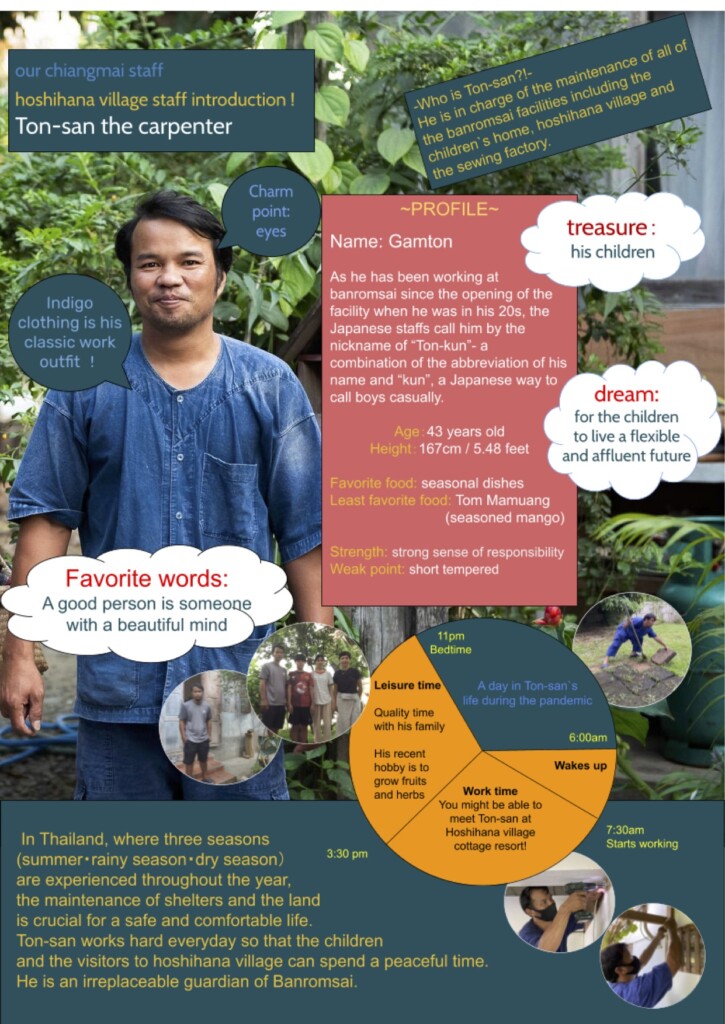 Hoshihana village – A relaxing resort experience to enjoy.
About Hoshihana village
Hoshihana village is a cottage resort located 15km southwest from Chaing Mai city, quietly at the foot of the mountains of Namprae village. Nine cottages with different styles and a pool are located within the site of about 20,000 square meters.
The resort's environment surrounded with rich nature takes the visitors to an extraordinary experience of waking up to the birds singing and enjoying the delicious food and relaxing time peculiar to the local colors. A breathtaking getaway for you to enjoy.
Cottage pick-up: The Full moon seen from the rooftop open-air bath
Nakaniwa House

At Nakaniwa house, you can feel the most sense of openness out of the nine cottages in hoshihana village. This spacious house with a kitchen, dining room, bedroom, an inside garden and open-air bath was architectured with the integration of the Moroccan mansion style "Riad" and Asian building materials. Visitors are able to enjoy a resort space surrounded by nature while listening to the birdcalls and the murmuring of trees.

Since all rooms including the dining and bedroom are faced to the patio, although the house gives a closed impression when seen from the outside, there is an incredible sense of openness to the inside. Visitors can experience a blissful moment of watching the night sky through the trees while taking a bath on the roof-top.
We highly recommend an unique journey to our cottage resort in Chaing Mai for your very first vacation after the pandemic.

A lot of fruits grow ripe and flowers bloom every season in hoshihana village.
You may discover something new during your stroll!